| | |
| --- | --- |
| Cost | No Ratings |
| Reliability | No Ratings |
| Support | No Ratings |
HashFlare is a new range of cloudmining services brought to you by the HashCoins team of cryptomining experts.
Our team has been involved with cryptocurrencies since the inception of Bitcoin and has over 3 years of experience in the field of mining cryptocurrencies.
Our goal is to make mining accessible to all users regardless of age, location, investment, technical nouse or experience. We want to give our customers an opportunity to try out cryptocurrency mining and earn Bitcoin as a reward. On a larger scale, we hope to contribute to the development of mining services and subsequently to the development, establishment and adoption of Bitcoin both as a currency and as an economic system.
Brief description of our service:
HashFlare offers to rent hashrate for mining SHA-256, Scrypt and Ethereum coins.
Algorythms: SHA-256, Scrypt, Ethereum
Minimal hashrate to buy: 10 GH/s (sha-256); 1 MH/s (Scrypt); 100 KH/s (Ethereum)
Prices: 10 GH/s (sha-256) 2.20$; 1 MH/s (Scrypt) 6.60$; 100 KH/s (Ethereum) 4.25$
Daily maintenance fee: 0.008$ / 10 GH/s (sha-256); 0.01$ / 1 MH/s (Scrypt); free for Ethereum mining
Contract period: 1 year (Ethereum); lifelong* (SHA-256 and Scrypt)
Payouts: daily (currency: BTC)
Refund policy: no refunds, all purchases are final.
Payment methods: Credit or debit card, wire transfer, BTC.
Minimal withdrawal sum: 0.0004 BTC (including commission).
Commission for withdrawal:  0.0003 BTC
Partnership: 10% for every purchase made by your referral.
Available languages: English, Russian, German, Italian, Spanish, Portuguese, Greek, Chinese, Japanese.
Features: Pool allocation (manual hashrate distribution between bitcoin mining pools).
* – If maintenance payments exceed the amount of rewards for mining the equipment will be switched off automatically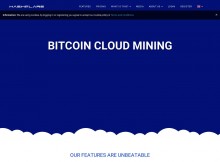 HashFlare
average rating:

0.0

out of

5

with

0

reviews.
HashFlare
You must be logged in to post a review.